Inishowen woman launches new beer
24.06.14
A MALIN Head woman is brewing up a storm as she launches a new craft beer-making enterprise with her partner.
Couple Emma Devlin and Cathal O'Donoghue are behind Rascal's Brewing Co., - Ireland's newest artisan beer maker.
The Dublin-based pair discovered their love of craft beer some years ago while living in New Zealand.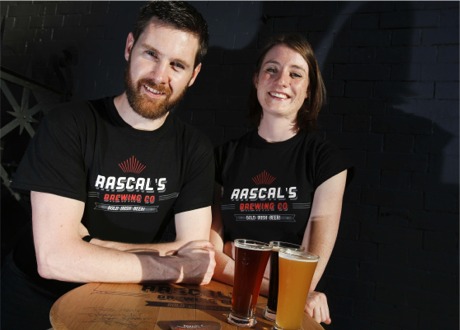 Beer we go: Malin Head's Emma Devlin and partner Cathal O'Donoghue who have launched Rascal's Brewing Co., in Dublin.
They launched Rascal's last December and currently produce a trio of 'Bold Irish beer' namely Ginger Porter; Big Hop Red and Wit Woo.
"When we moved home, we invested in home-brew equipment and began brewing with all-grain and fresh leaf hops. 2013 was a very successful year for us as we won two competitions with our beers - Belgian Wit and Ginger Porter. This boosted our confidence and things developed from there," Emma explained.
Corkman Cathal added: "Our plan is to brew a variety of seasonal ales and not focus on the core supply as much as other breweries." They currently supply beers to several pubs across Dublin and have plans to go nationwide by the end of the year.