'Mrs Doyle' knits cosies for battery hens
17.11.14
by Linda McGrory

FATHER Ted actress Pauline McLynn is making a cracking effort by knitting cosy little jumpers for scrawny battery hens saved from the slaughterhouse.
The big-hearted comedienne (52), who plays 'Mrs Doyle' in the cult classic, is creating the tea cosy-type body-warmers for chickens to be rescued later this week by Littlehill Animal Rescue.
The charity will make a heroic bid to save a whopping 4,000 young laying hens due to be slaughtered next month. Its previous rescues have seen young hens adopted all over the country including Donegal.
"(They) have lived in dark, desolate, barren cages for just over a year now. They have never seen the outside world, felt the sun on their back or any kindness and we are racing against the slaughterhouse truck which will arrive early December if we do not get them out first," the charity explained.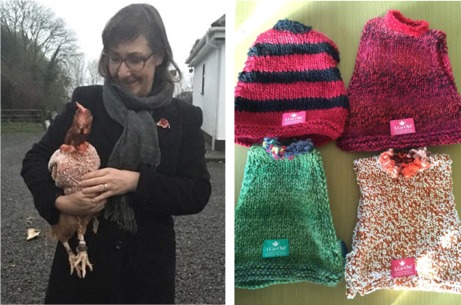 Sligo-born actress Pauline McLynn cradles Melissa, a Littlehill rescue hen wearing one of her 'A Go On!' jumpers. Right: A sample of Pauline's wee hen sweaters.
The cute little jerseys, with gaps for their wings, will help the rescued hens survive outside the hot and cramped conditions of the battery factory. Overcrowding often leaves them with sparse feathers and they are highly vulnerable to the cold once freed.
Littlehill has also posted a knitting pattern online to show supporters how they can make their own little hen jumpers.
The Sligo-born actress, who recently became patron of the Kildare charity, is a big fan of knitting and makes her own quirky tea cosies under the 'A Go On!' brand.
Littlehill's newly-rescued hens will be proudly decked out in stylish 'A Go On!' creations with titles such as 'Hennis the Menace'; 'Little Red Hen'; 'Green Goddess' and 'Orange is the New Black' .
Littlehill saved and rehomed 7,000 battery hens last year.
Hundreds of people have already pledged to adopt some of the 4,000 chickens due to be rescued this week, but many more homes are needed.
A nominal €5 adoption fee is asked towards costs.