FF candidate welcomes Moville works
18.02.14
LOCAL election candidate, Mary McCauley has welcomed Donegal County Council's expedient works on a "dangerous" pedestrian crossing in Moville.
The Fianna Fáil candidate recently raised concerns about the crossing directly with the council.
Following on from this, red and white bollards have this week been placed at either end of the crossing to warn motorists.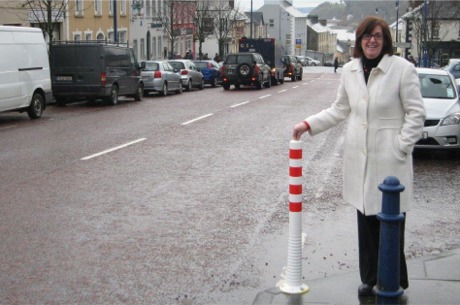 Mary McCauley pictured at some of the newly-installed bollards in Moville.
"I'm glad the council have followed through on the concerns I raised on behalf of the local community. The bollards now make the crossing more visible to motorists," said Ms McCauley.
"I will continue to push for a proper pedestrian crossing in Moville. However I hope this eases some of the fears local people had. I would also like to publicly thank the council for their speedy response on this issue."