Donegal pupils sum it up best
28.05.14
YOUNG primary pupils from Co Donegal have come tops in the country in a nationwide competition to find the best in maths.
The students of Cloughfin National School, Lifford, had the most points of any fifth and sixth class primary pupils in the MATHletes 2014 challenge.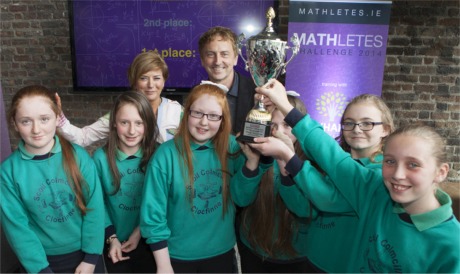 MATHletes 2014 primary school champions, Cloughfin National School, Lifford, pictured with competition founder Sean O'Sullivan.
The initial rounds of the competition included 3,000 pupils which were whittled down to 150 for the national finals in Dublin last weekend. A prize fund totalling €20,000 was distributed among all the winners in both primary and secondary levels.
MATHletes founder and tech entrepreneur Sean O'Sullivan said: "Ireland is languishing in the middle of the European pack when it comes to the STEM subjects of science, technology, engineering and maths.
"By developing a stronger foundation in maths, Irish students will be well-equipped with key skills that are required to take up jobs in export-led high-tech that are so desperately looking for talent."
The outcome of the national finals was determined by the highest scores gained following three maths events designed to test the full range of the students' maths abilities.