Majella keeps Daniel in dark over memoir
03.10.14
MAJELLA O'Donnell kept the contents of her new book a secret from singer husband Daniel.
The Donegal entertainer (52) only got to read his wife's eagerly-awaited memoir 'It's All in the Head' this week ahead of its publication next Thursday.
"Iíve only just got to read it myself as she didnít allow me to read anything while she was writing and I have to say she has done a great job," said a proud Daniel yesterday.
Majella (54) tells of her struggles with marriage break-up, crippling depression and breast cancer in the "searingly moving" autobiography.
The book will be released by UK publishers Simon & Schuster on October 9.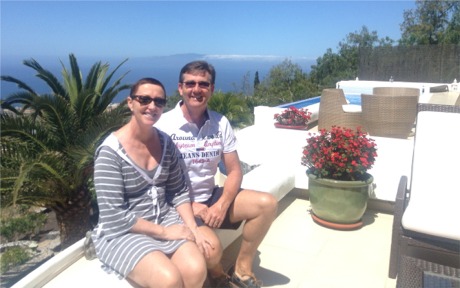 Daniel O'Donnell and wife Majella relax on the patio of their holiday home in Tenerife.
Majella will return the following evening to the 'Late, Late Show' where she had her head shaved live on television in September 2013.
The event raised more than 600,000 euro for the Irish Cancer Society and was a "statement of enormous courage in her fight against breast cancer", said her publishers.
Fans of the mother-of-two will also get to meet her during her countrywide book-signing tour at Eason and other book shops from October 11 Ė October 25.
Meanwhile, Daniel, who has just completed two concert dates in North Dakota, US., told fans he was delighted to attend last weekend's Ryder Cup in Gleneagles, Scotland.
"I canít begin to explain the atmosphere that was at this event and it was so good to be present to see Paul McGinley and the European team lift the trophy."