Taoiseach turns sod at €4.5m Science Park
14.05.14
TAOISEACH Enda Kenny has turned the sod on the €4.5m North West Regional Science Park in Letterkenny.
The development is part of the two Science Park developments located at the CoLab, LYIT and Fort George, Derry and represents a combined total investment of €15m in the region.
The project, co-ordinated by the North West Region Cross Border Group, is a partnership comprising the five councils of Derry, Donegal, Limavady, Strabane and Magherafelt.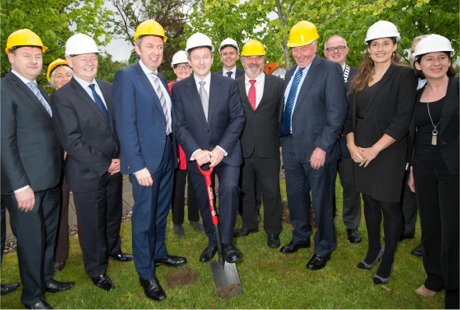 Taoiseach, Enda Kenny turns the sod at the new €4.5 million North West Regional Science Park building. Also pictured, from left: Seamus Neely, Donegal county manager; Dinny McGinley, TD; Paul Hannigan, LYIT; Norman Apsley, NISP; Frank Hewitt, NISP; Carol Margey, NWRCBG and Lorraine McCourt, SEUPB.
Monday's sod turning by Mr Kenny marked the culmination of four years' work by all the stakeholders in bringing this project from concept to reality. It is expected to be fullycompleted by mid-2015.
"The North West Regional Science Park is a shot in the arm for businesses within the North West, not just for the small companies in their infancy but also for those established companies and multinationals who can both contribute to and benefit from the dynamics of the Science Park project," said a spokesperson.
Various stakeholders in the project include LYIT, Donegal County Council, Donegal Local Enterprise Office, Department of Jobs, Enterprise and Innovation, EI, IDA, Údarás na Gaeltachta, ILEX, NWRCBG and NISP.
The spokesperson said local students could expect good opportunities from the Science Park.
"LYIT has 3,500 students, and is committed to providing opportunities for its graduates within the North West region, preparing them for their lives ahead.
"The emergence of the Science Park on LYIT's campus at this critical time makes this job a lot easier."