Fears for 80 Swilly jobs
15.04.14
FEARS are growing for more than 80 jobs after a liquidator was appointed to the Lough Swilly Bus Company.
Trade union Unite today said the company had been experiencing trading difficulties for some time and one of its main creditors is Revenue.
The long-running firm employs about 60 people including bus drivers, mechanics and technicians in Donegal. Another 20 people are employed in Derry.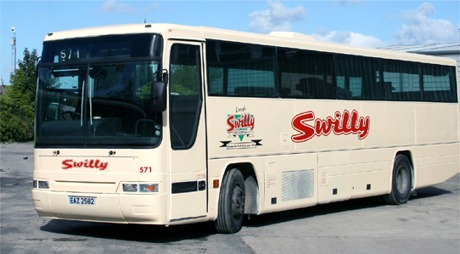 Lough Swilly Bus Company.
Unite's Philip Oakes said a winding up order had been issued in recent days with "shocked" staff expecting to receive their last pay cheque on Friday.
"We had hoped that some of the contracts that the company have secured are lucrative and maybe some other trader in the same sort of business may have come in and looked to lift the mantle. But as this stage nothing has come forth," he told BBC Foyle.
The company was founded in 1853 and included railway lines at that time. It is one of Ireland's oldest transport companies and operates a daily cross-border service between Derry and several rural Co Donegal towns. It is also contracted to run a school bus service throughout the county and particularly Inishowen.