Flood-damaged hospital almost restored
03.03.14
NEARLY all of the services damaged by floods last summer at Letterkenny General Hospital will reopen this month, its chief executive has confirmed.
Bill Maher said MRI services had already been restored and A&E would reopen next Monday.
Last year's flood caused damage running into tens of millions of euro, destroying 40 per cent of the building and affecting about 70 per cent of services.
Oncology, haematology, A&E, the pharmacy and kitchens suffered major damage.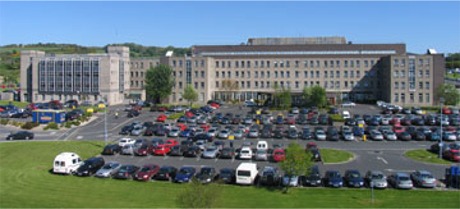 Letterkenny Hospital.
Mr Maher praised hospital staff and said they had coped remarkably well given the extent of work that needed to be carried out.
He told RTE that the hospital site would remain a building site for the next year to 18 months.
"We're going to rebuild the radiology department and one of the benefits if one can be considered is that we'll be putting an interventional suite into radiology as well. We're about to start work rebuilding the kitchens," said Mr Maher.
"We'll soon have the pharmacy up and running. For the next 12 to 18 months Letterkenny is going to be quite a building site in terms of bringing back on the haematology and oncology wards."