Donegal Daffodil Centre opens its doors
12.02.14
THE Irish Cancer Society has temporarily re-located its Donegal Daffodil Centre to the Letterkenny Shopping Centre.
The centre offers information, advice and support to anybody concerned about or affected by cancer. The new centre will remain at the shopping centre until flood damage in Letterkenny General Hospital has been repaired.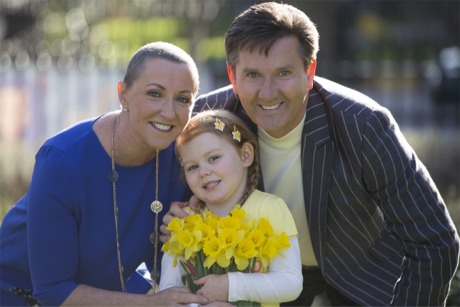 Majella and Daniel O'Donnell officially launch the Irish Cancer Society's 27th Daffodil Day, supported by Dell, on March 28.
An Irish Cancer Society spokesperson said Harcourt Developments, which owns the retail complex, has waived its usual fees in support of the organisation.
Specialist cancer nurse Teraze Toby is responsible for the day-to-day management of the new centre and she is supported by 20 trained volunteers.
"The Daffodil Centre is now open to all the people of Donegal. This, alongside our other vital services such as night nursing, Care to Drive and financial aid, will continue to support cancer patients and their families in Donegal," said the society's ceo, John McCormack.
The Irish Cancer Society was contacted by 27,184 people nationally in 2012 with queries ranging from cancer diagnosis, lifestyle, early detection and cancer awareness.
Meanwhile, cancer patient Majella O'Donnell and singer husband Daniel helped launch the Irish Cancer Society's Daffodil Day 2014 which takes place around the country on March 28.
The society said the elements won't affect its fundraising this year with the back-up of new indoor collection locations, a national bag pack in Tescos, coffee mornings and an online app created by Dell.
The Donegal Daffodil Centre is open to the public, Monday to Friday, 9am -5pm with no appointment or referral necessary. It has been made possible by funds raised by Relay For Life Donegal and the Darren Clarke Foundation.
For more information callsave 1850 60 60 60 or visit www.cancer.ie/daffodilday .