Irish Air Corps shares rare snaps of Dublin
23.04.14
AT a glance it could be New York's Central Park but notice the lack of skyscrapers and surrounding Georgian red-bricks and you'll see that it's actually a breathtaking view of St Stephen's Green in Dublin.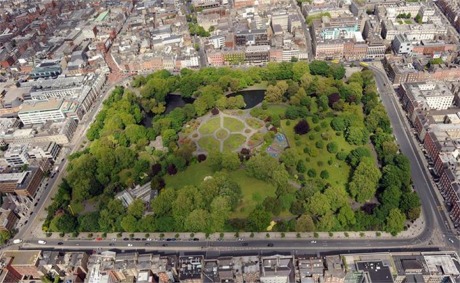 St Stephen's Green in Dublin.
The magnificent aerial photograph was taken by Irish Air Corps photographic crews as they departed the capital on life-saving and other missions.
The Air Corps has published the picture of St Stephen's Green and other stunning aerial shots to show people "a different view of some of our national treasures".
"These opportune photos were taken by Air Corps photographic crews as their aircraft were departing for operation missions or during approaches into Casement Aerodrome, where we get to cross the city at low levels," the Air Corps explained.
The shots were taken from a variety of aircraft as crews criss-crossed the city on clear days in recent weeks. The amazing pictures include the Spire on O'Connell Street; Trinity College and its quadrangle; a view of the River Liffey from above the Custom House and Dublin Zoo.
The Air Corps snappers also surpassed themselves with a photo and accompanying description of the Phoenix Park that tourism bosses would be proud of.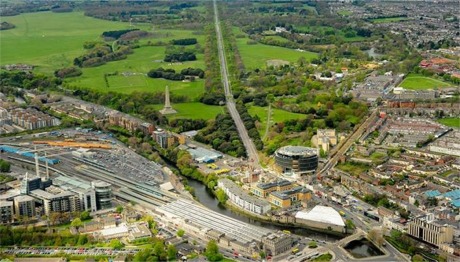 Phoenix Park in Dublin.
"Phoenix Park…one of the largest walled city parks in Europe. Lying 2–4km west of the city centre, north of the River Liffey, its 11km perimeter wall encloses 1,750 acres."
The aerial photos have been getting rave reviews from followers on the Defence Forces Facebook page including emigrants and ex-pats.
"I'm Dublin born and bred...never seen (sic) the city like this. Gorgeous shots," wrote one.
"Fantastic shots...a real bird's eye view!" said another.
"Love these fotos (sic). Have been out of Dublin now 15 years and miss it when I see fotos like these," wrote another homesick follower.
Another eagle-eyed observer, commenting on the St Stephen's Green photo, noted: "If you look closely there is a helipad on the roof of Dept of Taoiseach."
In response to all the positive comments and growing number of likes, the Irish Air Corps said it was happy to share the moment.
"We're very lucky to get this different view of Ireland and try to share it as much as possible," it said. It urged people to look out for more photos to be posted in the coming weeks.