Gaza doctors thank Moville and Greencastle

25.11.14
DOCTORS working in Gaza during the devastating conflict this summer have warmly thanked the people of Moville and Greencastle for supporting their life-saving work.
Médecins Sans Frontières (Doctors Without Borders) have sent a letter to the organisers of the Shore to Shore Solidarity event which was held at Kealy's seafood restaurant in Greencastle in September.
The event, co-organised by local peace activist Rose Kelly, raised more than €1,000 to help Médecins Sans Frontières' work in Gaza.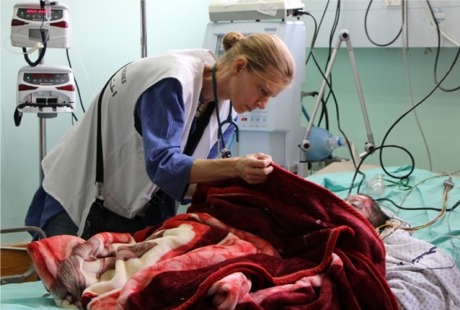 An anaesthetist with Médecins Sans Frontières at work in Al-Shifa hospital in Gaza this summer.
"Thank you so much for organising the fantastic event in aid of Gaza. We very much appreciate your effort and we are delighted you managed to raise an amazing €1077.56," said MSF supporter development executive, Alice Sachova.
"Please can you pass on our huge thanks to your friends that contributed to a very worthy cause."
MSF supported Gaza's main hospital, Al-Shifa, during the conflict this summer sending surgical teams to work alongside Palestinian medics.
Ms Sachova said that during the ground offensive, the emergency room was "overwhelmed" as were the operating theatres, with 30 to 40 seriously wounded patients arriving each day.
MSF's post-operative clinic, which has been running since 2009, is providing care to patients who come to have their dressings changed and to attend rehabilitation sessions with a physiotherapist. The patients range from young children who were orphaned during the conflict, to adults who have no address to give when they are registering, having lost their homes during shelling.
Greencastle woman Rose Kelly says more local solidarity events are planned.
"Although the ceasefire is holding, medical needs remain very high. Thanks to people like you, Médecins Sans Frontières is able to provide care where it's most needed.
"We are only using donations from members of the public for our work in Gaza in order to remain entirely independent of all political agendas. Your support is a true lifeline, our doctors could not operate without support like yours."
Meanwhile, Rose Kelly extended the organisers' "heartfelt thanks" to everyone who helped make the local solidarity event a huge success.
She said there would be further projects locally over the coming months.