Air, sea and sky's the limit for Foyle finale
27.06.14
THOUSANDS of spectators are expected to take to the shores of Lough Foyle for what promises to be a spectacular finale to the LegenDerry Maritime Festival this weekend.
Mayor of Derry, Cllr Brenda Stevenson said: "I am really looking forward to the weekend to give the Clipper Race crews a legenderry send off as they depart from the Quay on Sunday morning on the next stage of their journey."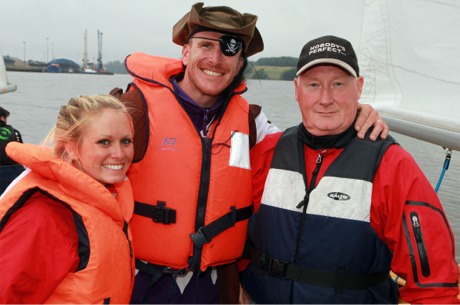 Eye, eye, skip: Buncrana man Sean McCarter, skipper of the Clipper Derry-Londonderry yacht pictured joins the fun earlier this week during the Lough Foyle Punts race at Culmore Point. Also in photo are Christi Wilson and Danny Gallagher. Sean will join the skippers of the other 11 Clipper yachts as they prepare to lead their crews out of Greencastle on Sunday on the next leg of the round the world yacht race - destination Holland.
Among the remaining highlights for the weekend are the Oban on the Foyle Japanese Lantern Festival which will see floating lanterns on the Foyle from around 9.00 am on Friday evening and a Moonlit parade organised by the Foyle Paddlers and Canoe club at the Foyle Marina.
On Saturday evening, the fun will continue with a fantastic array of family fun at the Pirates Party which takes place from 6pm along the Quay. Dress up and join in the maritime fun with all your favourite pirate gear before an amazing pyrotechnics display on the River Foyle closes the evening's celebrations at 10pm.
On Sunday morning it will be time to bid farewell to the Clipper Race fleet as it prepares to leave the Foyle Marina.
The 12 yachts are expected to arrive in Greencastle from 2pm where they will await the race start. The famous Red Arrows will stage an aerial acrobatics display at 2.45pm to mark the start of Race 15 to Den Helder in the Netherlands.
A traffic management plan will be in operation in Greencastle with park and ride facilities available for spectators. There will also be vantage points from Downhill to Benone Strand at Magilligan (parking is permitted on Benone beach but motorists are urged to exercise care as it is expected to be very busy).