Curious cub 'scout' won't be outfoxed
28.05.14
by Linda McGrory

IT'S a rare moment as a young fox cub 'scout' is captured encouraging a sibling to take its first tentative steps into the world outside their den.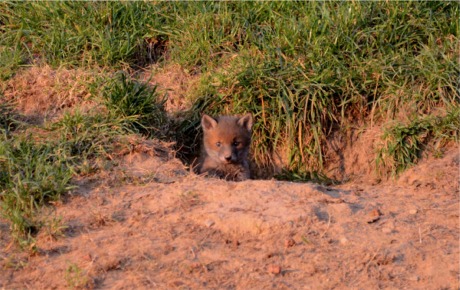 Peekaboo...A young fox cub ventures outside its den in a field outside Limavady, Co Derry.
But the foxy siblings, resembling miniature bears, are careful not to venture too far - staying close to home for safety.
The cubs were captured by talented local wildlife photographer Christine Cassidy who regularly snaps the wildlife of Inishowen and her native Derry.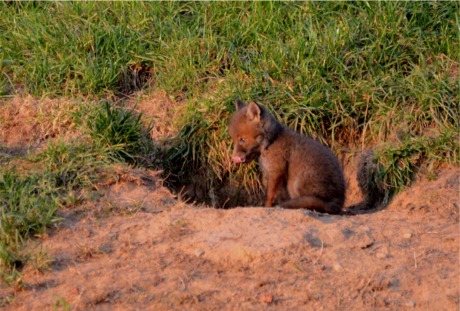 Pssst, come on out: A young fox cub waits for its sibling to follow suit.
She got a tip-off from a photographer friend, Dessie Loughrey, about the den's location - in a field outside Limavady, Co Derry - one evening late last month.
"There were four or five cubs in total and they were about 10-12 weeks old. We didn't see the vixen (cubs' mother) but the cubs all looked in great condition," she said.
"They were well fed and had very bright eyes which is a wonderful sign of good healthy cubs.
"We were both lying flat on our stomachs in a field surrounded with cow dung. I didn't even smell it with all the excitement!"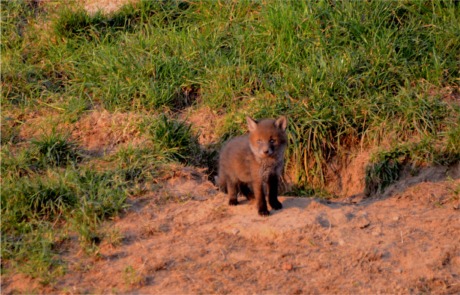 I could get used to this: The young fox cub gets more confidence in new surroundings.
Her camouflaged jacket and long-distance 500mm lens ensured Christine kept out of sight of the curious youngsters.
"It is an experience I will cherish forever," she added.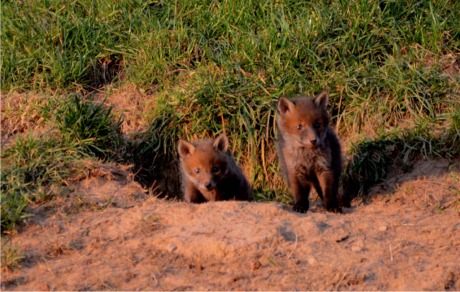 Cub scout is followed by its sibling out of the den.
The Irish red fox (madra rua) is largely monogamous and lives in a small family group. They breed once a year and the litter is usually four or five cubs. The cubs are commonly born underground (an earth) between March and mid-April with the male bringing food in the early weeks to sustain the mother and her young.
As they mature, the cubs' fur changes from brown to red and their eye colour turns from pale blue to amber.