Bag a bargain during Buncrana's Fiver Friday
22.07.14
BUNCRANA traders have joined the 'Fiver Friday' phenomenon launched by RTE Liveline's Joe Duffy to boost businesses suffering in the recession.
Fiver Friday will be launched in Buncrana this Friday July 25 and will run on the last Friday of each month thereafter. Some 44 businesses have signed up to take part so far.
"After running a Festive Fiver Friday last December on a significantly smaller scale the chamber decided that it would encourage all businesses, members and non members, to come together and promote 'the High Street' as a thoroughfare offering great service, great quality, great bargains and value for money," said administrator John Keyes.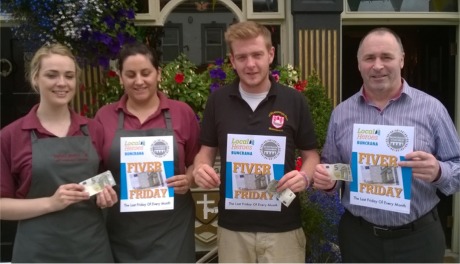 Shoppers are urged to bag a bargain during Fiver Friday starting this week and running on the last Friday of every month.
He said all 44 businesses will have a bargain for five euro. Some will offer a discount on a service for a Fiver while others will have sale items for a Fiver. Most of the 44 businesses will run the offer all day while some will have bargains available during a specific period of time that day.
Businesses signed up as of July 18 are: O Flaherty's Bar, Taylors Pantry, Bloomin Marvellous, An Siopa Gruaige, SuperValu Buncrana, The Coffee Cup, Pixcam, Bernie's Barbers, Macs, Hegarty's Home Interiors, Callaghan Jewellers, Card n Candies, O Donnell's Broadway, Gallagher Meats, Glow Beauty Salon, Glamour, Della at Glamour, Inishowen Blinds, The Jewel Casket, John Barr Boutique, Tara Henderson Int Hair and Makeup, Shoe and Sport Store, Grants Butchers, Kustom Ink Tattoo, Liam's Barbers, The Lily Rose Café and Sandwich Shop, Munchies Sweet Shop, Topline Fashions, AIB, Joan's Beauty Salon, Bank Of Ireland, Joe McConnell Furniture, Valu Clean, Michelle's Beauty and Injury Clinic, Crossans the Jewellers, Zissors by Sonia, Fab Face and Body, McLaughlin Motor Factors, Healthwise, Grants Shoes, Brennans Pharmacy, Premier Meats, Health Food Store & The Lunch Box
Any other business wishing to participate can call John on 9321720 Tues 9am-14.30, Thurs and Fri from 9am. You can also email commerce@buncrana.com .