More whitefish quota for Greencastle
17.12.14
DONEGAL Minister Deputy Joe McHugh has welcomed an increase in whitefish quotas for Irish fishermen.
The €123m package will include a 14% increase in Donegal haddock for the ports of Greencastle and Killybegs.
"For the North West region, this will mean a 20% increase in monkfish quota; a minor increase for the megrim quota, a doubling of the Rockall haddock quota and a 14% increase in Donegal haddock for the ports of Greencastle and Killybegs," said Deputy McHugh.
"This is a positive development and a good result overall for both fishermen and the relevant stakeholders, securing a continued future for the industry which will result in positive results for fleets. I would like to commend Minister Coveney on his hard work in securing this outcome, without which, the original Commission proposal would have included a 20% reduction in whitefish quotas, involving a direct income reduction of €18m for our fishermen."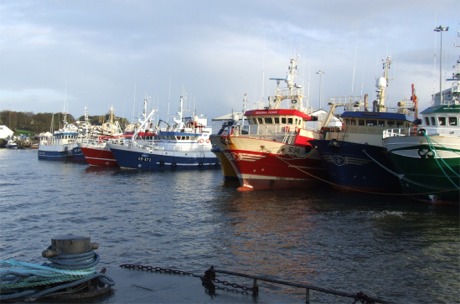 Fishing boats moored at Greencastle harbour.
Deputy McHugh added: "There was also agreement from the Commission that they would reverse the proposed 14% cut in the prawn quota, based on scientific advice, and that instead there will be a 3% increase in our quota for this extremely important €60 million fishery.
"The Minister has also secured an 11% increase in the hake fishery and maintained quotas for monkfish and megrim stocks. This involves a total landing value of €27 million to the whitefish fleet operating in the Celtic Sea.
"It is important to note that there will be an additional review in February 2015 of the total allowance for herring fishing and this will be something that I will be raising directly with the Minister," added the Fine Gael representative.