Fitness club to raise funds for Siobhan's family
15.08.14
A FITNESS club is to run a half marathon to raise money for the family of a young Inishowen mother who died in a road accident earlier this year.
The Fighting Fit club will participate in the Waterside Half Marathon in memory of fellow member Siobhan Hutcheon (38) who was killed when her vehicle was involved in a collision with a public bus on the main Derry to Letterkenny road in May.
She was on her way to the family's holiday caravan in Kerrykeel with her three young sons, aged 12 and under, when the accident happened.
Ms Hutcheon's children were injured but survived the horrific crash. The bus driver also survived the accident.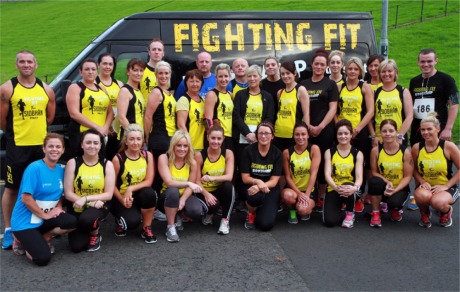 Members of the Fighting Fit Club who will take part in the Waterside Half Marathon next month in memory of mother-of-three Siobhan Hutcheon from Ardmore, Muff, who died in a road accident in May.
Club trainer Sean Heaney said members had been "deeply affected" by the sudden loss of the pharmacy assistant who lived with her family in Ardmore, Muff.
"Siobhan was a lovely girl and had been regularly attending our bootcamp sessions, so it was such a complete shock when everyone heard the news – especially as she had just been training here that morning," he said.
"A few of Siobhan's cousins and friends are also members, and since the tragedy everyone has been asking what we could do to remember Siobhan and show our support for the family."
Some 30 people including the late woman's siblings and husband Warren have now signed up to run the Waterside Half Marathon in Derry city on Sunday, September 14.
"Everyone will be filling in a sponsorship form and the money raised will go towards Siobhan's family. Warren has been training with us, as well as lots of Siobhan's family and friends, so I think everyone will experience a real overwhelming sense of achievement when they make it over the line - not just because they have completed the race, but that they've achieved that for Siobhan and her family."
Registration forms for the Waterside Half Marathon are available from Derry City Council leisure centres or online at www.derrycity.gov.uk/halfmarathon .