Inishowen schools to Relay for Life
25.03.14
SCHOOLS across Inishowen are being urged to play their part in raising awareness of cancer and much-needed funds for the Irish Cancer Society by getting involved with this year's Relay for Life.
The schools will have the opportunity to play their part in a number of ways this year by taking part in poetry and song competitions or by organising a Rainbow Walk or providing artwork for the weekend.
Several secondary schools have already entered teams in this year's Relay, with others agreeing to support the event.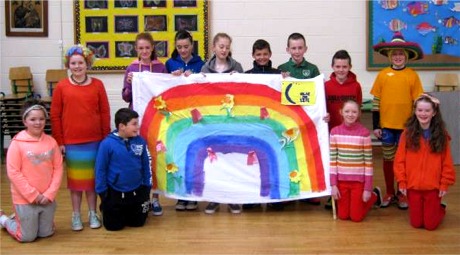 Students from Drumfries NS who took part in last year's Rainbow Walk for Relay for Life.
Committee member Liam Porter says he is looking forward to their participation once again this year.
"Following on from the successful involvement from schools over the past few years we have introduced a poetry competition for both primary and secondary school students this year as well as a song-writing contest for secondary school students."
Those contests, he says, came on the back of suggestions from students who participated in last year's Relay for Life and he says the committee is always keen to get as many young people involved in the event in as many ways as possible.
"My main remit as the schools coordinator is to try to raise awareness so entry to these contests are all free. Of course some schools choose to raise funds as well through entering teams or organising events like the Rainbow Walk and they are always most welcome.
If any school would like to get involved in the Rainbow walk, take part in the poetry or song contests, provide artwork or indeed seek any further information, then I'd ask them to get in contact as soon as possible. All the contact details are on the blog page and the website www.relayforlifedonegal.com " Liam added.