Psychologists brought in to Carn primary school
23.10.14
PSYCHOLOGISTS has been brought in to support staff and pupils at a Carndonagh primary school affected this week by the tragic deaths of a teacher's parents.
Staff at St Patrick's Girls' School in Carndonagh were left reeling following the discovery of the bodies of pensioners Jimmy and Kathleen Cuddihy, both in their 70s, at their home on Thursday morning.
The couple's daughter Delilah, a highly popular staff member at the 14-teacher national school, had arrived for work as normal that morning.
However, she was abruptly called away just minutes later as news of the shocking deaths of her beloved parents reached her.
Psychologists from the National Educational Psychological Service (NEPS) travelled from Letterkenny later that day to talk to her colleagues at the local national school. Parents were also informed of the unfolding tragedy.
Ms Cuddihy's colleagues were said to be "badly shocked" by the tragedy.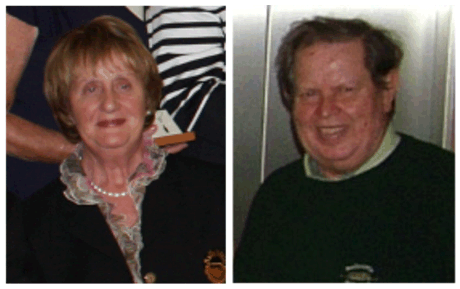 Kathleen and Jimmy Cuddihy who were found dead at their Carn home.
The NEPS psychologists have been counselling staff and preparing them for questions that will inevitably come from their young pupils, particularly those taught by Ms Cuddihy.
"The children will be wondering about their teacher and what happened to her mammy and daddy. Everyone is glad the mid-term break is coming up," a source said.
During major incidents NEPS psychologists assist schools in preparing a critical incident management plan.
A NEPS spokesperson said: "Staff members will then know what to do when something occurs that upsets the normal running of the school and individual members will take on different roles in managing the school's response.
"The school authorities have been in touch with NEPS in relation to this particular tragedy and NEPS psychologists are providing assistance to the school community in this matter."
Retired Kilkenny-born maths teacher Mr Cuddihy and his wife, a retired nurse from nearby Malin, lived at their Churchtown bungalow for over four decades.
The couple, who had four grown-up children, were heavily involved in local sporting, music and fundraising circles.
Their 42-year-old son Julian was charged last night with their murders. He has been remanded in custody to Castlerea Prison to appear at Letterkenny court next Wednesday.
Meanwhile, St Patrick's Girls' School cancelled its annual Hallowe'en Hooley including a colourful drum and samba parade that was due to take place through the streets of Carndonagh yesterday.
The whole community was invited to join the fun but instead their festivities have turned to sadness as they grapple with the events that unfolded in the town this week.