Donegal YMCA graduates make the grade
07.07.14
THE Donegal YMCA Support, Training and Enterprise Programme has congratulated the eight trainees who graduated from the course last Thursday.
The group is now urging people who would like to take part next term to get their applications in soon.
The programme is primarily aimed at early school leavers who are unemployed and between the ages of 17-25 years and have left school at least six months previously. Participants receive the equivalent of SOLAS training allowances and also receive a transport and meal allowance.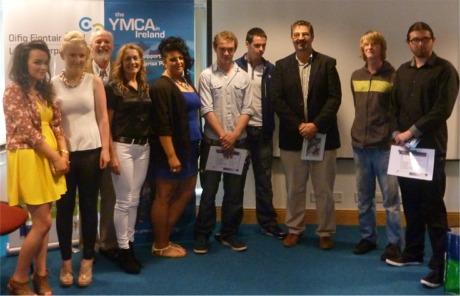 Graduates and course facilitators pictured at the recent graduations for Donegal YMCA Support, Training and Enterprise Programme.
The graduation took place in the Enterprise Fund Business Centre in Letterkenny where the programme is located.
Co-ordinator Stewart Morris highlighted the many aspects of the course modules including communications; world of work; customer service; team working; functional maths; understanding interculturalism; health and ECDL. Outdoor pursuits ranged from cycling, gym, walking sessions. The group visited Belfast and also took part in a community graffiti wall at Derry's recent LegenDerry Maritime Festival.
"The aim of the programme is to support participants in gaining employment or accessing further education," Stewart explained.
The course is funded by the Department of Education and Skills. For further information and application forms please contact Stewart on 0868395954 or phone the centre on 9161485. You can also email to stewart@ymca-ireland.net .
"Recruitment will continue to take place throughout the summer but the sooner you get an application in the better."