Inishowen in grip of GAA fever

17.09.14
INISHOWEN is well and truly in the grip of GAA fever as the clock ticks down to the minor and senior double-header between Donegal and Kerry at Croke Park this Sunday.
Flags are flying, bunting is billowing and special songs have been written as the men, women and children of the county cheer on their top footballers.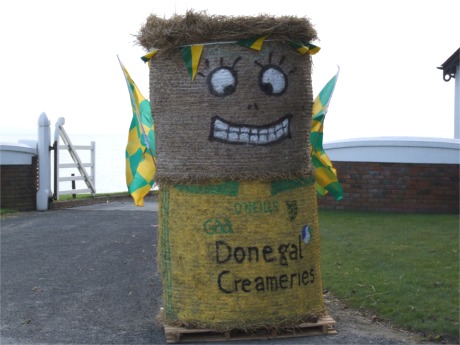 Out on bale...This quirky supporter has been amusing Inishowen GAA fans.
Again it would seem the pundits are writing off a win for the Donegal seniors in favour of a narrow victory by the Kingdom on September 21.
Kerry legend Darragh Ó Sé says the enthusiasm has been slow to build in his own county.
"In Kerry this week, it feels a bit unusual to be building up to an All-Ireland final. I think it's because nobody really expected this, so people have been slow to really embrace the whole thing.
"It might sound a bit strange but I do think that people are nearly holding fire for now, as if they're not convinced just yet that this Kerry team is any good," he writes in today's 'Irish Times'.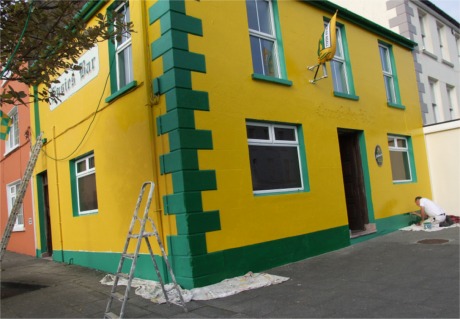 A painter puts the green and yellow finishing touches to Susie's Bar, Moville, ahead of the historic Croke Park double-header between Donegal and Kerry in the senior and minor All-Ireland finals this Sunday, September 21.
By contrast, he says Jim McGuinness' men will "fly" thanks to the support of their fans.
"Sunday is fascinating in so many ways. Even the fact that it's a double header with both counties in the minor and senior games is going to make it different to other All-Ireland finals. Donegal feed off their support so much, they jump on the wings of it and get flying because of it."
Nevertheless, Ó Sé still sees a win for the Kingdom on the big day. "My feeling on Sunday is that Kerry will win by four or five points. I think they have more of a scoring threat and won't get caught cold and give away goals like Dublin did."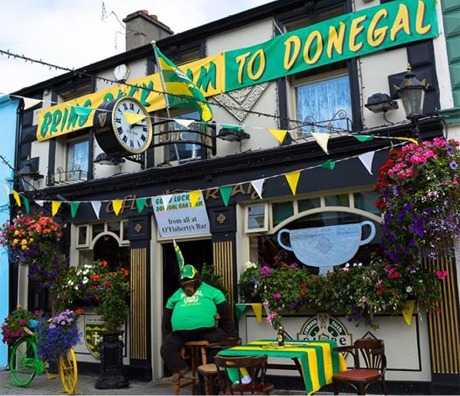 O'Flaherty's Bar gets Buncrana in the spirit of things.
Meanwhile, GAA clubs around the peninsula have been getting behind the teams and in particular their homegrown players and backroom support.
Buncrana GAA said: "The club wishes to congratulate and wish all the best to Darach O'Connor, Caolan McGonigle and John Campbell who are representing the club on the pitch and also wish good luck to Sean Noonan, Dave McLaughlin, Ronan Doherty X (minor backroom) and Paul McGonigle (who is Jim's right hand man!).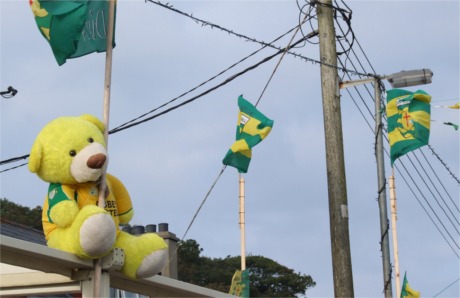 Kealey's Bar in Greencastle can't 'bear' the wait until All-Ireland Sunday.
"It's really great to see such a big representation from our wee club, a very proud day for all of us."
Malin GAA said: "Excitement is building by the day as we edge closer to the final of both senior and minor football championships...and with our club represented in both panels, it's another landmark day in the history of Malin GAA.
"We would urge all supporters who are travelling over the weekend to take care on the roads and make a special effort to get to Croke Park early to sample the atmosphere and to give the minor squad the support they so richly deserve."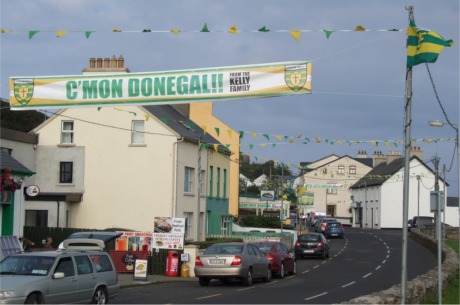 Yellow and Greencastle...The fishing village flies the flag for the Donegal senior and minor footballers ahead of the Croke Park showdown.
Scoil Íosagáin pen special song
SCOIL Íosagáin in Buncrana has invited Donegal supporters to visit the school tomorrow, Thursday, at 1.30pm for the launch of its special supporters' song: 'All the Way with Donegal'.
The song was specially-written to celebrate the participation of the school's past pupils Darach O'Connor and Caolan McGonagle in the senior and minor finals.
The lively song was written by Patrica Doherty Tinney and Sinead McLaughlin and is delivered beautifully by the children.
Listen to it here: www.facebook.com