Just five Donegal blind people have guide dog

02.10.14
SOME 465 people are registered blind in Co Donegal yet only five of them have the life-enhancing services of a guide dog, a charity providing the trusty canines has revealed.
Irish Guide Dogs is now inviting people in the county living with vision impairments to apply for their free training services including the Guide Dog Programme.
"On World Sight Day on October 9 we would like to encourage more people who are vision impaired to apply for our services," said the charity's ceo Padraig Mallon.
"Some people think a guide dog may not be for them - they may fear the responsibility might outweigh any potential advantages. In our almost 40 years of experience however we have received a universally positive response to having a guide dog."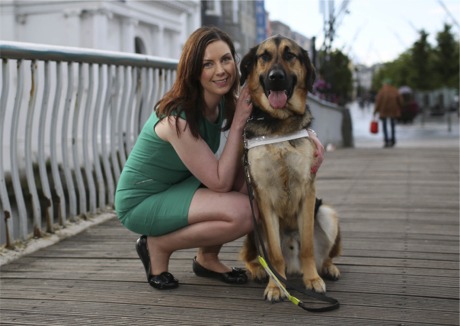 Irish Guide Dogs education officer Leann Kennedy pictured with her dog Roy.
Among the county's guide dog owners is Jennifer Doherty from Buncrana and Kevin Kelly from Clonmany who have previously described how their lives have improved dramatically since getting their beautiful labradors, OJ and Miles, respectively.
Irish Guide Dogs access and education officer Lean Kennedy also has a guide dog, Roy.
"Having a guide dog can make a huge difference to a person who is vision impaired. It gives them back their independence and allows them to get around safely," she said.
Irish Guide Dogs is 80 per cent funded by voluntary income and donations. To get more details on its Guide Dog Programme visit www.guidedogs.ie .