Elated fans post good wishes to Donegal team
01.09.14
DONEGAL fans on a high after yesterday's Croke Park thriller are enjoying a brand new forum to show their appreciation to Michael Murphy and his team.
People from all over the county and abroad are posting messages in their droves on the new Facebook page of the Donegal team captain and Neil Gallagher's new sports shop.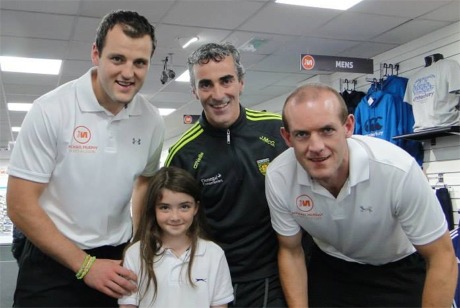 Donegal manager Jim McGuinness drops in during the recent opening to wish his players Michael Murphy and Neil Gallagher the best of luck with their new commercial venture. Also pictured is young fan Grace.
The page for Michael Murphy Sports & Leisure has only been live for about two weeks and already has almost a whopping 12,500 likes.
One delighted fan enjoyed telling them that he scooped a handy €1,000 bet yesterday with the healthy odds he got on the team.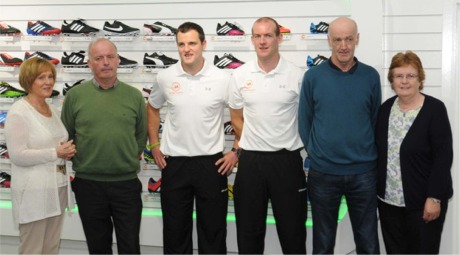 Michael Murphy and Neil Gallagher pictured with their parents at the recent opening of their new sports store in Letterkenny.
Here is just a sample of some of the other good wishes the team is receiving today:
"Special mention for Paul Durcan. He kept the Dubs out when they were trying to put the game beyond Donegal early on. Now who is the best keeper in Ireland?"
"Well done boys. You are all a credit to our wee county!"
"Well done Donegal! Fantastic display and ye fairly quietened the hill."
"Well Done Donegal. We're so proud of you all."
"What a day for Ulster and Donegal."
"Congrats to both teams."
"Well done. Brilliant game."
"Brilliant display of great players, well done Donegal."
"Congratulations lads, so proud of yous, brilliant game."
"That was amazing, each and every one of the boys should be very proud as is everyone in Donegal. Great memories."
"Unbelievable result."
"Well done lads...fantastic game fantastic result! Bring on the final!"
"Well done Michael and Neil and both Donegal teams. Fantastic."