Josie is Donegal Carer of the Year 2014
05.11.14
A LETTERKENNY woman has been announced as Donegal Carer of the Year 2014.
Josie Cullen was presented with her award at a special ceremony at the Silver Tassie Hotel, Letterkenny, on Monday.
The mother-of-three has been caring full time for her daughter Karen for 22 years since she took ill at the age of six.
Karen was diagnosed with a brain tumour, throat cancer and epilepsy and has had numerous operations over the years.
Josieís husband Austin nominated her for the award. He said having a child who is ill "makes you look at life so differently and that his family is so grateful and blessed to have Karen in their lives".
"All of Josieís time is devoted to our daughter and she has no time to herself. Now that our daughter Karen is terminally ill, Josie still never complains. Our daughter comes first, Josie is an amazing person," said Austin.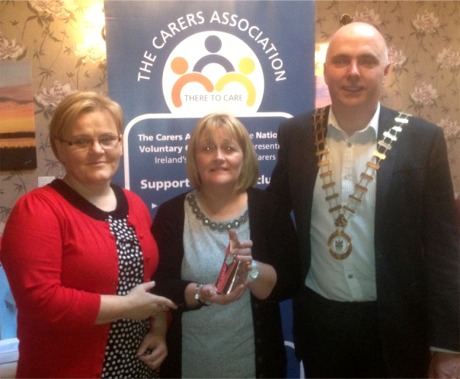 Donegal Carer of the Year 2014 Josie Cullen pictured, centre, with Rose McBrearty of the Carers' Association and Mayor of Donegal, Cllr John Campbell.
The Donegal Carer of the Year, herself, credited "the vast support" she receives from her husband, daughter Clare and son Graham.
The judges were Amanda Woods (Mrs Browns Boys), Gina Grant (last yearís winner) and Rose McBrearty (The Carers' Association). Donegal Mayor Cllr John Campbell and Minister Joe McHugh also attended the awards ceremony.
Josie will go forward to a special ceremony in Dublin next week to honour the regional award winners. One family carer will be chosen as Irelandís Carer of the Year 2014 and the Young Carer of the Year 2014 will also be announced.
The ceremony will be hosted by RTE broadcasters and Carers' Association patrons Mary Kennedy and Marty Whelan.