Nominate your Donegal carer of the year
27.08.14
THE Irish Carers Association is calling for final nominations from Donegal people to nominate their Carer of the Year.
There are more than 7,433 family carers in Donegal looking after older people, people with disabilities, the terminally ill and those with special needs.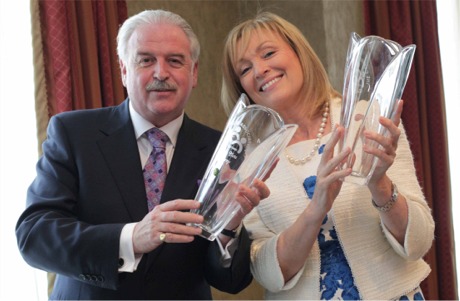 Irish Carers' Association patrons, Marty Whelan and Mary Kennedy who will present the Carer of the Year Awards in November.
Nationally, there are more than 30,000 carers over the age of 60 and a further 8,676 over the age of 75.
The theme of this year's awards is 'Time'.
"While the work of family carers can be rewarding and a real labour of love, the cost of that care in physical, emotional, and psychological terms can be immense," said Carers' Association head of communications, Catherine Cox.
"We want to honour the thousands of family carers who dedicate so much of their time and lives to caring for their loved ones. There are so many wonderful carers in Donegal and I would invite people across the county to nominate their carer of the year. All entrants will receive a commemorative certificate while local award recipients are invited to attend the Carers of the Year Awards 2014 ceremony being held in November in Dublin. Awards will be presented by the association's patrons, RTE personalities, Marty Whelan and Mary Kennedy. Closing date for entries is September 19, 2014.
Nomination forms are available from freefone 1800 24 07 24 or online at www.carersireland.com .