Clipper Race in New York
04.06.14
Newly elected Mayor, Councillor Brenda Stevenson, will travel to New York this week to join members of the Derry~Londonderry crew participating in the Clipper 2013-14 Round the World Yacht Race. The crew will arrive at the stopover port in the 'Big Apple' ahead of their departure for the next leg of the race that will bring them into the home port of Derry~Londonderry for the LegenDerry Maritime Festival celebrations.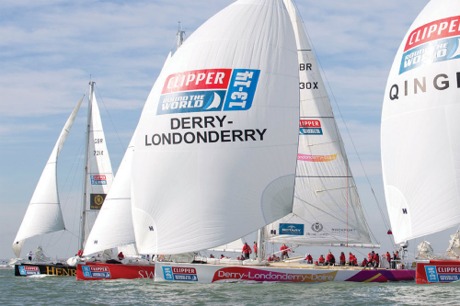 Clipper 2013-14 Round the World Yacht Race.
The Mayor will be accompanied on the trip by Derry City Council's Town Clerk and Chief Executive Sharon O'Connor along with Des Gartland, Invest Northern Ireland's North West Regional Manager, to engage with businesses and key members from the Northern Ireland diaspora in New York.
Speaking ahead of the visit, the Mayor said: "I am really looking forward to meeting the skipper Sean McCarter and his crew and helping to promote details of our fantastic maritime festival celebrations that are planned to coincide with the arrival of the Clipper Race fleet when they arrive in the city at the end of the month.
"We are hugely excited about being in New York and getting an opportunity to showcase our city, network with local business people and encourage them to be part of our celebrations and our new legacy story since our City of Culture status success," she said.
Details of the LegenDerry Maritime Festival, which will take place in Derry~Londonderry between June 21- 29 to welcome the Clipper Race fleet to the city, are available at www.legenderrymaritimefestival.com .