Daniel: ďMam is giving me the strength to singĒ
11.06.14
SINGER Daniel O'Donnell has described how his late mother Julia is giving him the strength to go on stage so soon after her death.
Speaking for the first time since she died at the age of 94 less than four weeks ago, the heartbroken performer said his mother's unflinching love and support lives on for her family.
Daniel (52) is currently on a three-week tour of the US and Canada. He had to begin the tour just a week after his mother was laid to rest.
"I canít believe I have been able to do this tour so soon after mam's passing, however I believe that it was she who gave me the strength to do it," he said.
"She loved coming to see the concerts. I have to say I have felt a great sense of peace each night on stage. I know in my heart itís what she would have wanted me to do."
In a heartfelt message to fans this morning, the Kincasslagh singer said concert-goers on his latest tour have been showing him cards, letters and knitted gloves that kind-hearted Julia had sent them over the years.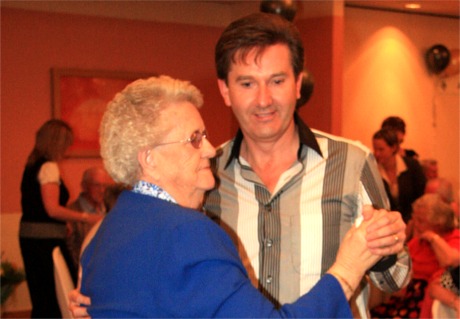 Daniel dancing with his beloved mother Julia.
"Looking back over the last year, I could see my mother failing, but somehow, it never dawned on me that the end was so close," he added.
"Even though (she) was 94, somehow I think we all thought she was going to live forever. We know how fortunate we have been to have had her for so long, but at this time, itís not that easy to be rational.
"She was so much a part of all of our lives and took a great interest in everything we did, from my eldest brother John, right down to the youngest great-grandchild Lauren."
Meanwhile, Daniel, who plans to take a two-year sabbatical and spend quality time with wife Majella next year, said the O'Donnell family were "overwhelmed" by the numbers who attended Julia's wake and funeral. He thanked everyone for their kindness to their mother while she lived and their prayers and messages of sympathy when she died.
He quipped that Julia, in her later years, would often ask how many priests had concelebrated a local personís funeral mass. He said she would have been proud at the turn-out for her own.
"As I sat in the front pew beside her coffin, I glanced at the 11 priests that concelebrated and thought to myself, I hope you can see them mam, youíve done well."
Julia OíDonnellís month's mind mass will be held at St Mary's, Kincasslagh, on Friday, June 27 at 7pm.