Singer Daniel in mourning as mum Julia (94) dies
18.05.14
by Linda McGrory

SINGER Daniel O'Donnell is in mourning today following the death of this beloved mother Julia this morning.
A heartbroken Daniel broke the news that his 94-year old mother had passed away at 3.50am as her family kept a bedside vigil.
"It is with great sadness that we have to announce that our dear mother Julia passed away peacefully in the loving care of the staff of Dungloe Hospital surrounded by all her family on Sunday, May 18 at 3.50am," said Daniel (52).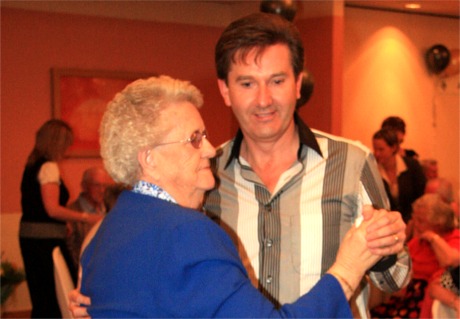 Save the last dance: Daniel dances with his beloved mother Julia at her 90th birthday four years ago.
"My siblings John, Margaret, Kathleen, James and myself would like to thank you all for the kindness you have shown to her down through the years. May her gentle soul rest in peace," he added.
Daniel's wife Majella also revealed the news to her Twitter followers.
"It is with sadness that I announce the death of Daniel's mother Julia, rest in peace..." said Majella (54).
The Donegal singer rushed home earlier this week from gigging in Scotland as his mother took very ill.
Friends of the star have been posting messages of love and support
"RIP Julia, a great woman," wrote one friend.
"You will all remain in our thoughts and prayers. Love to you Daniel," another posted.
"Our thoughts are with you," said another.
Julia
Julia, a native of the small island of Owey, moved to Kincasslagh when she married Francie O'Donnell. The couple went on to have five children. Julia was widowed prematurely in 1968 when Francie died prematurely of a heart attack aged just 49. Youngest child Daniel was only six years old and he fondly recalls how Julia raised her five children single handedly.
"I suspect people have the impression that my mother kept me hanging on to her apron strings when I was a kid, but that couldn't be further from the truth.
"She wasn't at all overprotective. I had great freedom, a terrific childhood the same as everyone else in our area. I was always in and out of neighbours' houses when I was a child and I was full of news," Daniel told fans.
In recent years Julia went to live with Daniel's sister Kathleen and family in Kincasslagh.
For funeral details click here .