To infinity (pool) and beyond for Daniel and Majella
29.04.14
SINGER Daniel O'Donnell and his wife Majella look 'tantastic' as they relax by their infinity pool in sunny Tenerife.
The couple are enjoying their first extended break together since Majella (54) underwent a double mastectomy for breast cancer in February.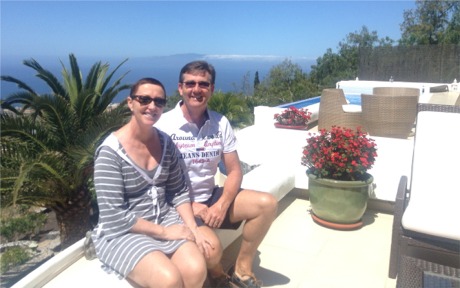 Sun-kissed: Daniel O'Donnell and wife Majella relax on the patio of their holiday home in Tenerife.
They delighted fans yesterday by posting a video giving a glimpse of life at their idyllic Canary Islands villa complete with lush palm trees, beautiful sea views, white patio area and infinity pool.
Daniel (52), normally seen in sharp suits, showed off his lesser-spotted knees in navy coloured shorts and a white t-shirt. Majella, meanwhile, wore a casual grey striped beach top.
"Greetings from Tenerife. We're having a great time here...it's absolutely lovely in the good weather, it's fantastic," beamed Daniel as Majella smiled and agreed.
The clip delighted fans who sent good wishes in their hundreds to the popular couple.
"Nice to see you both relaxing and spending quality time together," wrote one well wisher.
"So nice to see you both so relaxed and my continuous prayers go to your beautiful wife," said another.
The Donegal performer will spend another week in Tenerife before returning to the UK for a tour on May 6. He will then tour the US and Canada in June.
Meanwhile, the Donegal singer described his wife's cancer diagnosis last year as "a devastating shock".
And he stressed that his two-year break from performing planned for next year is not retirement but a sabbatical.
"I just thought to myself you don't know what the future holds or is going to bring. I suppose we are in a lucky position that we can afford to do this and have a bit of free time, whereas lots of people probably couldn't do it," he told 'The Irish Post'.