Daniel bids emotional farewell to fans
08.12.14
SINGER Daniel O'Donnell will bid an emotional farewell to fans worldwide tonight as he finishes his final tour before embarking on an extended break from music.
The Donegal entertainer who won't tour again until 2016, takes to the stage this evening at a concert venue near Niagara Falls, Canada.
His 18-month sabbatical comes in the same week as his birthday - he turns 53 on Friday.
He told shocked fans earlier this year that he would stop touring for a significant period after realising that "life is short". The decision came after his wife Majella's breast cancer diagnosis and the subsequent sudden death of her father Tom Roche.
His own beloved mother Julia (94) has also since passed away.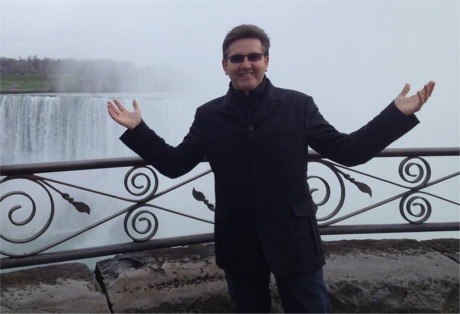 Daniel O'Donnell at Niagara Falls, Canada.
Daniel said he and Majella (54) took the decision together after reflecting on the uncertainty of life.
"Through all of this we had a lot of time to reflect and take stock of things and it makes us realise that life is short," he said.
"For me this was a very big decision but there are a number of things that Majella and I want to do and even if we live to be 90, which I hope we do, I don't want to have to say 'I wish we took the time to do such and such'."
Daniel will among the singers at a charity gig later this month in Ballybofey. He will honour a rescheduled charity concert for Dungloe Hospital in May and a pre-arranged sold-out Caribbean cruise residency in February.
But fans worldwide will now have to wait until Summer 2016 before he begins touring again. He will kick-off his post-sabbatical tour with a residency at the INEC in Killarney, Co Kerry, in August 2016.
The Kincasslagh man is currently celebrating having an album in the UK charts for an incredible 27 years in a row.
He said he has received "overwhelming" support from fans on his decision to take time away from the spotlight. He said many have told him to "'go and enjoy (yourself) and we'll be here when you come back'".
He is delighted with the support he has received from fans on his decision to take time out of the spotlight.