Daniel's fans pledge to 'Stand Beside' him
23.10.14
SINGER Daniel O'Donnell's loyal fans have pledged to wait for him while he takes an 18-month break from music next year.
The Donegal performer (52) said he was "very grateful" his dedicated followers have supported his decision to take time out from his hectic schedule to enjoy life with wife Majella.
He said Majella (54) is now breast cancer-free after a 15-month battle with the disease.
"Thankfully she is cancer free. She's had all her treatment and surgeries and everything is good. We've been very fortunate."
The singer said his wife's shock diagnosis in July 2013 followed by her father's sudden death shortly afterwards, led to his decision to take a year-and-a-half break from music starting in February 2015.
He said his own mother Julia's passing last May further convinced him that his decision to take a sabbatical was the right one.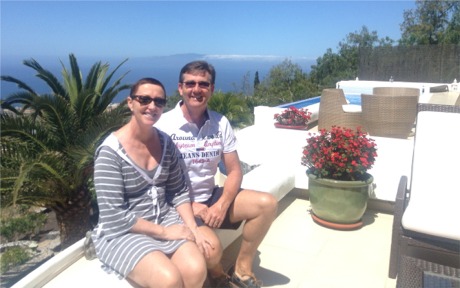 Daniel O'Donnell and wife Majella relax on the patio of their holiday home in Tenerife.
"Even though I know that Majella is going to be fine, you really don't know what the future holds so we decided we would take just a bit of time to walk into the garden for a while and enjoy," Daniel told the Alan Titchmarsh Show on UTV yesterday.
Daniel said some people had wondered how his fans would react to his decision to take an extended break.
"I was amazed at the overwhelming support that I got from people saying 'you go and enjoy and we'll be here when you come back' and that's tremendous."
The entertainerís new album 'Stand Beside Me' will be released next month.
He said while the album was recorded and named before his decision to take a break, its title turned out to be serendipitous.
"Itís kind of apt that I'm going off and almost saying 'Stand Beside Me' until I come back. But (the fans) have done and I'm very grateful," he added.
Meanwhile, Majella has described her delight as sales of her new memoir 'It's All in the Head' soar.
"Absolutely delighted to announce that my book 'It's All in the Head' has gone to Number 1 in the non-fiction paperback category week ending October 18. Wow!" Majella tweeted yesterday.