Daniel and Majella make pilgrim's progress in Medugorje
25.06.14
MAJELLA O'Donnell has delighted friends and supporters by lighting a candle for "anyone that needs it" during a pilgrimage to Medugorje.
Breast cancer survivor Majella has been enjoying a relaxing short break in the Eastern European town since last week.
It is understood her husband, singer Daniel O'Donnell has accompanied her on the trip ahead of his late mother Julia's month's mind mass in Kincasslagh this Friday.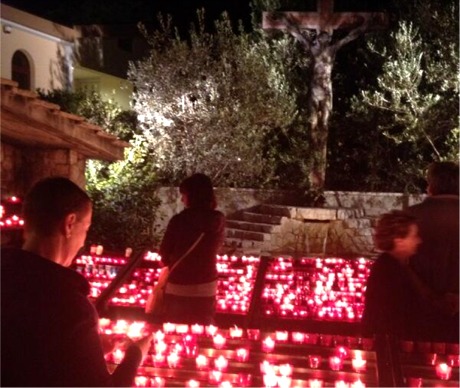 Majella lights a candle in Medugorje.
Daniel is known for his strong Catholic faith and has visited Medugorje on previous occasions. He has also written a song dedicated to the town which is located in Bosnia Herzegovina.
"Having a lovely peaceful week in Medugorje. Beautiful simple special place," Majella tweeted.
"I placed a candle in the garden of light in Medugorje for anyone that needs it. If that's you, then it's for you."
Her "thoughtful" gesture was appreciated by many of her followers.
One wrote: "That's a lovely thought. Thank you Majella. Needed that today."
Medugorje shot to fame more than 30 years ago following reports of apparitions of the virgin Mary. The first reported apparition happened in June 1981 with millions of Catholics from all over the world including Ireland visiting the site on prayerful pilgrimages every year since.
Meanwhile, Daniel's home village is expecting hundreds of people to descend for Julia's month's mind mass in St Mary's Church, Kincasslagh, this Friday, June 27 at 7pm.
In a heartfelt message to fans earlier this month, Daniel extended an open invitation to the memorial mass.
"While we don't expect you to attend, we want you to know that everybody is welcome," he said.
He also thanked the hundreds who sent prayers and messages of sympathy after Julia passed away on May 18.
"Even though my mother is out of sight, her memory lives on in so many ways...and of course, in our hearts she will live forever," Daniel added.