Happy home sought for canine "couple"
31.07.14
AN inseparable canine 'couple' who were used for breeding before being given up for re-homing are seeking a happy retirement home together.
Alaskan malamutes Cody and Sasha are understood to have had a number of litters of puppies together for their owners in recent years.
Staff at the Rainbow Rehoming Centre in Derry took the three year olds last week from the local pound where they had been surrendered.
"Cody and Sasha are very close to each other. They have to be exercised at the same time because one won't leave for a walk unless the other is going too," said staff member Caroline Gillespie.
"They have excellent temperaments and love to play. We keep them in the same pen so they can be together."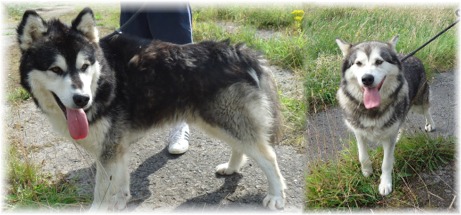 Alaskan malamute Cody, left, waits for 'partner' Sasha to catch up.
The centre which rescues about 1,000 dogs and cats in the Derry and Donegal areas each year, says the pair are getting vaccinated and will be neutered next week.
They want Sasha and Cody to be rescued as pets and not as working dogs such as guard dogs.
"They are now both looking for a loving new home, preferably together if possible."
The Alaskan malamute is a large husky-type dog that was originally bred for hauling heavy freight and sleds.
The Rainbow shelter said that because they are very strong animals they would be best suited to a home with no young children and one which has experience of the breed. More information can be found on the centre's Facebook page .