Shaun Kelly gets two years' jail
18.12.14
BUNCRANA man Shaun Kelly has been sentenced to four years in jail with two suspended for dangerous driving causing the deaths of seven of his friends and a pensioner in a road accident.
Mr Kelly (26) from Hill Road, Ballymagan, was also disqualified from driving for ten years.
He had changed his plea to guilty earlier this year in relation to the crash which happened on July 11, 2010 at Glasmullen between Clonmany and Buncrana.
He was driving a black Volkswagen Passat with seven of his friends in the car when it collided with a vehicle driven by Urris man Hughie Friel (66).
The seven others who died in the crash were Eamonn McDaid, 22, of Ballymagan, Buncrana; Mark McLaughlin, 21, of Ballinahone, Fahan; Paul Doherty, 19, of Ardagh, Ballyliffin; Ciaran Sweeney 19, of Ballyliffin; PJ McLaughlin, 21, of Rockstown, Burnfoot; James McEleney, 23, of Meenaduff, Clonmany and Damien McLaughlin, 21, of Umricam, Buncrana.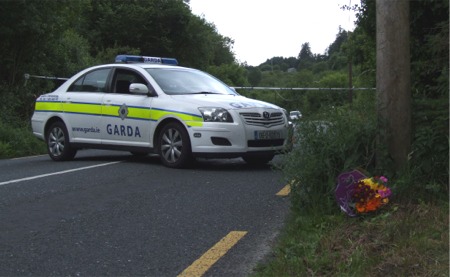 The scene at Glasmullen, Drumfries, where the eight-person fatality occurred
back in July 2010.
Today's sentencing hearing at Letterkenny Circuit Court heard victim impact statements from the families of the deceased.
It also heard a message of apology to the victims' families read out on behalf of Shaun Kelly by his father Liam. In the message, he stated that the Kelly family were deeply sorry for what happened and the trauma it had caused. He also thanked the victims' families for the kindness and understanding they had shown towards them. The court heard earlier today that Shaun Kelly had two previous road traffic convictions.