Greencastle reaches great heights with airshow and top yacht race
16.06.14
COMMUNITIES along the Foyle will be out in force to welcome the twelve 70 ft. clipper yachts as they enter the local lough later this month.
As part of the famous circumnavigation race, the Clipper fleet will have just completed Race 14, Leg 8, 2850 nautical miles from New York via the famous Flemish Cap. The eighth leg left New York on June 7 and the fleet is expected to arrive here from Saturday, June 21.
The Clipper 2013/2014 race set off from London's St Katherine Docks on September 1, last. The teams are: Derry ~Londonderry~Doire; Great Britain; Henri Lloyd; Invest Africa; Jamaica All Right; Mission Performance; Old Pulteney; One DLL- de Lage Landen; PSP Logistics; Qingdao; Switzerland and Team GARMIN.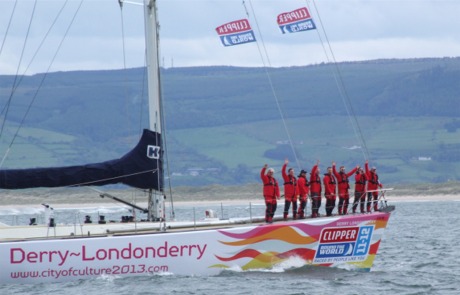 The Derry-Londonderry Round the World Clipper yacht when it sailed up Lough Foyle back in May 2011.
This year Donegal County Council has been working with members of the Greencastle community, the Irish Coast Guard and Moville Boat Club to organise and facilitate the race start along with other activities.
From Wednesday, June 25, the public can visit enjoy a close view of the Clipper yachts on the water as they host corporate races from Greencastle harbour from June 25 - 27. On Thursday, June 25, Moville Boat Club will host an open cruisers race. From Friday, June 26 there will be live music in the local bars while the fun pub tour will also be back in service. A fun fair will be back in the village green over the weekend and on Sunday, June 29, the celebrations will reach even greater heights when the Red Arrows begin their sensational 25-minute air show from 2.45pm. This will be followed by the Clipper Race start at 3.45 pm.
Gemma Havlin of the Inishowen Maritime Museum was one of the organisers of the hugely successful Foyle Inishowen welcome festival in 2012.
"With the announcement that the famous Red Arrows will be performing a 25-minute air display above Greencastle, it is expected that this year's attendance may be even bigger," she said.

For Gemma's handy round-up of the week's events and traffic details please click here