Grants for community creches up for grabs
07.04.14
DONEGAL's 83 community-run early childhood services are being urged to apply for new capital grants announced last week by the Government.
The funding will be directed towards two specific purposes, namely, large scale maintenance works with grants of up to €50,000 available and quality and sustainability improvements with up to €50,000 also available. Large scale works would include roofs, windows and doors, heating and sanitary systems, building access or safety, replacement of worn fixtures and fittings and essential repairs to outdoor play areas.
The second eligible category would allow for medium or large scale works to improve Building Energy Ratings and other sustainability features.
Donegal Childcare Committee manager, Avril McMonagle said a national fund of €2.5 million for the repair, maintenance and upgrade of community is available in the not-for-profit childcare sector but private operators would lose out.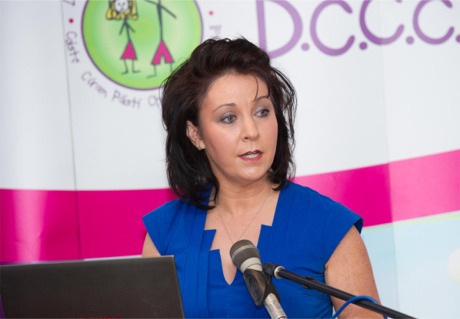 Donegal childcare manager, Avril McMonagle.
"The announcement is bitter sweet for privately managed childcare providers across Donegal. 68 of the 151 early childhood services in Donegal will not be able to apply for this funding. It is disappointing that this decision has been taken as it creates an inequality of opportunity in our sector that is totally avoidable," said Ms McMonagle.
"A fairer approach would have been to introduce two levels of funding – one for community managed services and one for privately managed services. This would have enabled all services across the county to upgrade facilities for children in a more equitable manner."
The programme is now open for applications via the Pobal website www.pobal.ie . For advice and assistance to complete the application please contact Donegal County Childcare on 074 9123442 and ask to speak to a childcare development officer who will provide support and advice regarding the application and appraisal process.