Moville couple back child palliative care hub
30.10.14
A MOVILLE couple who suffered the tragic loss of their baby daughter are among families supporting a vital new information service on palliative care for children with life-limiting illnesses.
Brian and Sharon Thompson, whose nine-month-old daughter Victoria died from a rare and painful illness in 2012, said more needed to be done to support and inform families in need.
"Victoria had an incurable, untreatable rare condition which left her in constant and severe pain," said Sharon.
"Her nerve endings were un-insulated. She also had horrendous symptoms. Our first question was 'how do you fix it?' Then we were told — 'it can't be fixed'."
Living in Inishowen, Brian and Sharon found it difficult to access information and services locally. While in the majority of cases seriously sick children are cared for at home, Victoria was so sick that they took up the opportunity of a place in the LauraLynn Children's Hospice.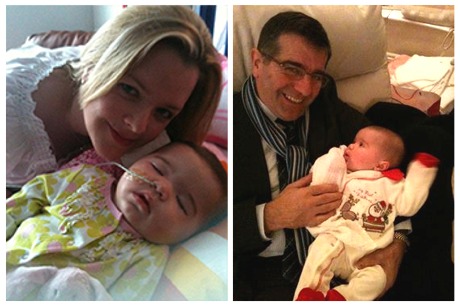 Victoria pictured with mum Sharon and dad Brian.
The Thompsons said the palliative care approach provided at the hospice was a very positive experience for Victoria and for them.
"Every professional had time to talk to you, to sit with you. We were allowed to be Victoria's parents. We could relax a little knowing her needs were being met. Children's palliative care needs strong voices. Parents should be able to give children the best, especially children at the end of life."
The Moville couple are among families supporting the new cross-border Children and Young People Palliative Care website - www.cypph.com - developed by the All Ireland Institute of Hospice and Palliative Care (AIIHPC).
It is designed to assist parents, guardians, carers and the wider public in understanding what children's palliative care is and seeks to make it easier to find the right information.
AIIHPC director Paddie Blaney added: "The palliative care community, both in the Republic of Ireland and in Northern Ireland recognised the need for a 'go to' point that parents, carers and the general public could access to get independent information on a topic which is difficult to talk about or gather information on."
To read Victoria's story click here .