Buncrana goes for gold for childhood cancer

10.09.14
SOME of Donegal's most notable buildings and landmarks are Lighting Up Gold this month as part of the second annual Light It Up Gold campaign for the Childhood Cancer Foundation.
The Public Service Centres in Donegal Town and Milford are going gold while in Buncrana, the Council Offices, Castle Bridge and the Roundabout are all already lit up gold as indeed are the Coast Guard Station at Malin Head, An Grianán Theatre in Letterkenny and the castle at Oakfield Park in Raphoe.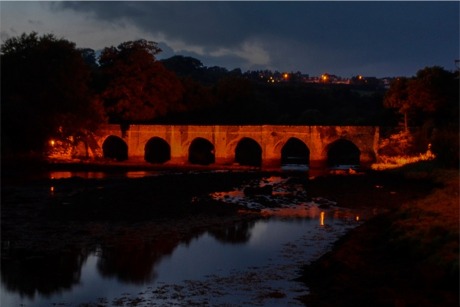 Buncrana's Castle Bridge goes gold to raise awareness about childhood cancer.
The Polestar Roundabout in Letterkenny will also be lit up gold this weekend.
Childhood cancer is the biggest cause of death by disease in children in Ireland,
"Over 200 children are diagnosed with cancer each year in Ireland. That's four families each week who hear the devastating news that their child, brother, sister or grandchild has cancer," said foundation spokesperson Mary Claire Rennick.
"We are so grateful to everyone who has come on board with the campaign and especially to Liam O'Hara of O'Hara & Harrison Electrical Contractors who have worked for free to install temporary lights for us. Also special thanks to John McCarron in the council who has been a wonderful support too."
The foundation was launched earlier this year to help the many Irish families affected by childhood cancer. More information at www.childhoodcancer.ie .