Broken Hearted Horses...and one happy dog
01.12.14
SINGER songwriter Martin Lynch launched his Broken Hearted Horses EP with an intimate festive gig at Moville Pottery on Friday night.
The great new disc entitled 'Black Xmas' comes after the launch earlier this summer of the band's first CD 'Love not Money'.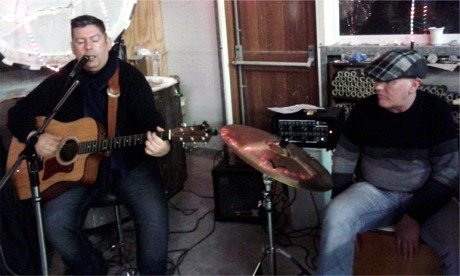 Singer songwriter Martin Lynch, left, and drummer Jim Thompson at the launch of Broken Hearted Horses' new EP in Moville Pottery.
Moville musician Martin, who formed Broken Hearted Horses earlier this year, was accompanied by local drummer and band member Jim Thompson.
Meanwhile, everyone enjoyed delicious pizzas courtesy of Mick O'Donoghue and his new company Rapitalia Foods.
Moville Pottery's Lowry and Brian were magnanimous hosts and their beautiful rescue dog Lacey seemed to enjoy the fun too!
Broken Hearted Horses will announce further launch dates for the new Christmas EP in Donegal and Derry later this month.
Meanwhile, in other local music news, The Henry Girls, have thanked all their supporters for a brilliant year.
"Folks, we're near the end of 2014. Massive thanks to all the people who have come to our shows this year so far. It's been a real honour to play for you," they said today.
The Henry Girls from Malin have recorded a new version of their 'Mr Snowman' which was voted Christmas FM song of 2012 by listeners.
The song can be listened to on YouTube and is also available to download from iTunes.