Bespoke bungalow for people with brain injury
01.12.14
A BRAIN injury support group founded in Donegal has unveiled details of a bespoke six-bed bungalow being built in Letterkenny.
The new building will provide the accommodation needs of four men living with an acquired brain injury in Letterkenny.
The men are in need of a neuro-rehabilitation assisted living service to allow them to live a fulfilling life in the community.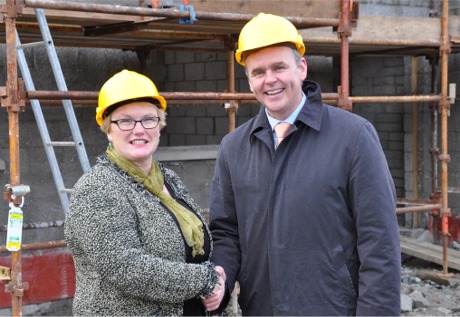 Acquired Brain Injury Ireland co-founder Barbara O'Connell pictured with Minister of State, Joe McHugh at the site of the new bespoke bungalow in Letterkenny.
Brain injury support group Acquired Brain Injury Ireland (ABI Ireland) are spearheading the project in association with Donegal County Council, Anvers Housing Association and the HSE.
ABI Ireland was established fourteen years ago by the family of Donegal man, Peter Bradley, who suffered a brain injury following a road traffic accident.
A further stroke left Peter residing in a nursing home at the young age of 42, without neuro-rehabilitation.
Peter's family refused to let this continue and since then ABI Ireland has allowed him and many others to live a normal life in the community. They now have brain injury specific rehabilitation services all over the country.
Peter's sister Barbara O'Connell who is also ABI Ireland's co founder and chief executive said: "To have an ABI Ireland Assisted Living Residential service in Donegal is very important for our organisation, to our partners and my family. For me Donegal will always be home even though my family moved to Dublin after Peter's accident in the search of specialist services." Ms O'Connell said the new building, when ready, would "empower and support" the four new tenants. About 13,000 people acquire a brain injury in Ireland each year, facing a drastically changed life to the one they once knew.
Meanwhile, Minister of State Joe McHugh added: "There is a tremendous amount of valuable work being carried out by ABI and I was delighted to be invited by the group to witness firsthand their commitment to these vital services in Donegal. It is imperative that ABI receive our support in whatever way we can to help them deliver on their development of services."