Bill Clinton to visit Derry next week
25.02.14
FORMER US President Bill Clinton will visit Derry next week to honour John Hume's contribution to the Northern Ireland peace process.
Mr Clinton will address an open air gathering in the city's Guildhall Square on Wednesday, March 5, and is expected to attract large crowds reminiscent of his visit to the city in 2001.
The University of Ulster (UU) is hosting Mr Clinton's visit during which the former American president will also launch a new book entitled 'Peacemaking in the Twenty-First Century'.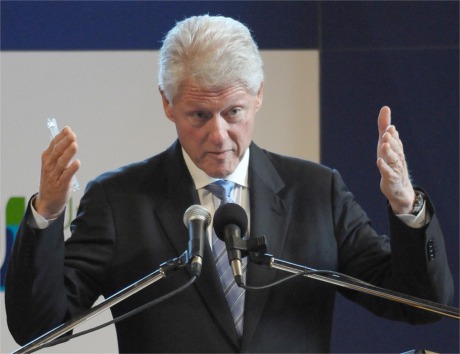 US President Bill Clinton.
UU vice-chancellor Professor Richard Barnett yesterday said the university was delighted to welcome Mr Clinton back to the city.
"We are honoured that President Clinton will be with us both to launch the book and to support the developments at INCORE, the university's international peace and conflict centre, linked to the John Hume and Thomas P O'Neill Chair in Peace."
Moville-based Nobel Peace Laureate John Hume held the Tip O'Neill Chair in Peace Studies at the University of Ulster from 2002 to 2009.
Mayor of Derry Martin Reilly added: "It is a great pleasure to welcome President Clinton back to the city at this time, to see for himself the significant advances that have been made here in recent years."