It's River-pants for Ant & Dec
17.08.14
IT wasn't so much Riverdance as River-pants for television favourites Ant & Dec as they showed off some hard-shoe skills during their live tour.
The double act have been impressing audiences each night as they join their guests, the world-famous Riverdance troupe, on stage as part of their Takeway on Tour show across the UK and Ireland.
But one recent performance left McPartlin and Donnelly (38) re-ely flustered.
As they took part in the iconic high-energy routine in Leeds, Yorkshire, they suffered a serious wardrobe malfunction - in the form of ripped trousers.
"Apologies to all watching Takeaway On Tour in Leeds for our bad Riverdancing, but this is why...ripped trousers!" the pair tweeted with photo.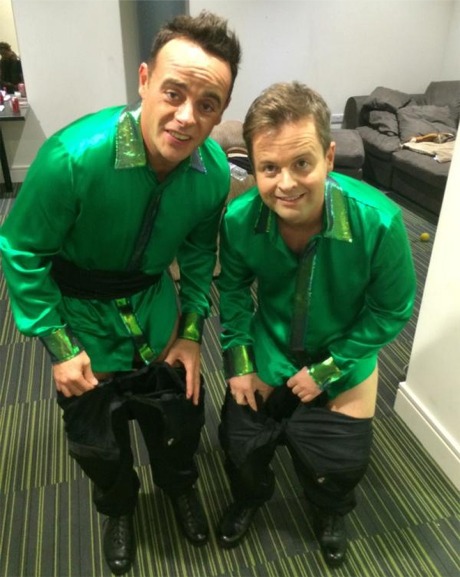 TV favourites Ant & Dec show what can happen when Irish dancing high kicks go awry. (Pic: Twitter @antanddec)
The cheeky snap shows two fairly big holes in both crotches of their slim-line black trousers.
But the show went on for the Britain's Got Talent and I'm a Celebrity… presenters. Dressed in emerald green shiny shirts and tight-fitting slacks, they have clearly been putting in the effort to master their swing-rounds, taps and high kicks.
A YouTube clip of the pals Riverdancing competently has been viewed almost 300,000 times.
The Takeway on Tour plays Belfast's Odyssey Arena later this week and the O2
Dublin in September.
Other celebrity guests lined up for some of the shows include Keith Lemon, Kian Egan, Paddy McGuinness, Nicky Byrne and Eamonn Holmes.