Delight as Hannah (5) meets her helicopter heroes
09.08.14
by Linda McGrory

THERE was a special reunion at Casement Aerodrome when five-year old Hannah Connolly dropped in to thank the Air Corps crew who airlifted her to hospital as a critically-ill newborn.
Little Hannah from Killea, Co Donegal urgently required treatment at Our Lady's Hospital for Sick Children in Crumlin, Dublin, the day after her birth in November 2009.
Thanks to her helicopter heroes who speedily transported her from Letterkenny to Dublin, she got the treatment she needed and has made a full recovery.
Bubbly Hannah and her parents Louise and Eddie made the special trip to Baldonnel this week to meet again with Captain Finbar McArdle, who was the pilot on Hannah's life-saving mission, his co-pilot Captain Michael Noonan and Airman Dave Tiernan.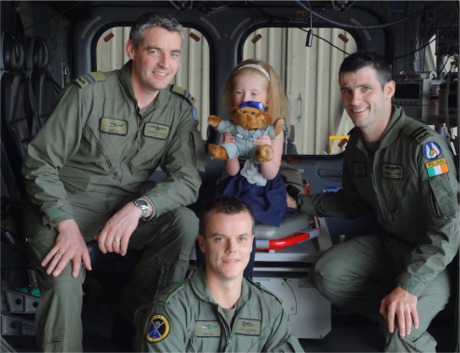 Hannah Connolly (5) is reunited with the Irish Air Corps crew who airlifted her from Donegal to Dublin as a critically ill newborn baby in 2009. From left, the pilot on the mission, Captain Finbar McArdle; co-pilot, Captain Michael Noonan and seated below, Airman Dave Tiernan.
Hannah's mum Louise said her "wee princess" was a happy and healthy child thanks to the emergency care she received as a newborn.
"She had to get to Dublin as quick as possible and only for these men at the Irish Air Corps this would never have been possible," she said.
"Thanks to them along with the staff at Our Lady's Children Hospital in Crumlin we have an absolutely happy healthy wee princess that lights up every minute of our lives."
Hannah was suffering from pulmonary atresia when she was born which means one of her main heart valves wasn't fully developed. She also had two holes in her heart. She had open heart surgery at six days old and again at two years old.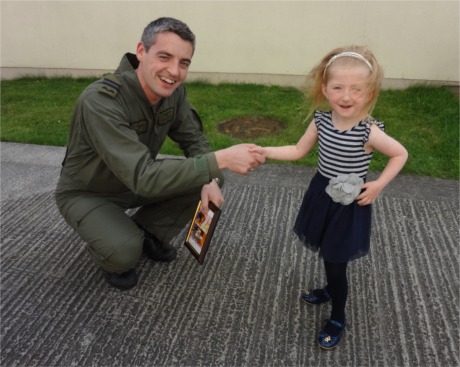 Hannah Connolly from Co Donegal meets Air Corps pilot Captain Finbar McArdle five years after he flew the helicopter that transported her as a neonatal emergency patient from Letterkenny to Crumlin.
Hannah was presented during Thursday's visit with a special Air Corps teddy bear which crews give to comfort young children on an emergency flight.
But the crew were surprised when the youngster produced the original one – complete with its little flying suit and cap - they had given her five years ago.
Air Corps spokesman Captain Brendan O'Dowd said: "The Air Corps complete over 100 air ambulances every year and the crews rarely hear how our special passengers get on.
"Meeting Hannah and seeing her full of life is a great reminder to our crews of the difference they can make and why we do our best to provide this service 24 hours a day, seven days a week, all year round."