Official launch of online radio station
08.10.13
INISHOWEN'S independent online radio station Inishowen Live is having its official launch with a night of entertainment and hopes you will "be part of it".
The event, on October 19, will also be a joint fundraiser for the Donegal branch of the Irish Red Cross.
The station was started earlier in the year by a dedicated group of volunteers who were determined to preserve a community-based radio service in Inishowen.
"From these beginnings Inishowen Live has harnessed the latest technology to broadcast online a wide range of programming including local news, interviews, chat and music to suit all tastes on a 24/7 basis from its studio in Carndonagh," said spokesperson, Marianne Ashcroft.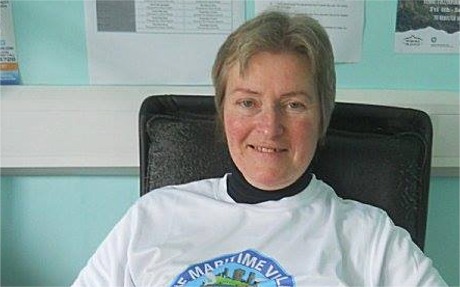 Inishowen Live presenter, Marianne Ashcroft.
She said the station offers "a combination of experience and youthful enthusiasm".
In its six months of broadcasting it has welcomed many celebrity guests and scooped a couple of world exclusives, she added.
Meanwhile, Inishowen Live has also recently pioneered a new type of programme, 'Inishowen Calling' which allows for a guest to broadcast live on air from anywhere in the world.
The Inishowen Live night on Saturday, October 19 will have a line-up including Billy Martin, Maria Doherty, Stringfellas, The Teraways, Patsy Cavanagh, Kate Callaghan, Finbarr Doherty, The Whelks and Ciaran Keogh among others. It will be compered
by PJ McLaughlin.
The station team hopes that as many people as possible will come along to support the night, enjoy the entertainment, find out more about the station, meet the presenters, and in the words of the station's motto: "be part of it!"
Inishowen Live is available via www.inishowenlive.com or via the TuneIn
app on your smartphone or tablet.