'Inishowen company creates Kindle first
29.04.13
IRISH legends appear in ebook format on Amazon Kindle for the first time today with the launch of a book by an Inishowen company. Inis Publications' first book 'An Donn Cuailgne' is also available in English as 'The Brown Bull of Cooley'. This is the first in a series of children's story books aimed at bringing Irish myths and legends back into the classroom. The launch took place this morning at Gaelscoil Cois Feabhail in Moville, Co Donegal.
"When my children were younger and taking Irish language books home from their gaelscoil, I was a little shocked and disappointed that there was almost nothing about the Irish legends. When I was at school, we had the Irish legends in our classroom readers and I loved them," said author and director of Inis Publications, Trish Hegarty
'The Brown Bull of Cooley – An Donn Cuailgne' is the first book in the series, retelling ancient Irish myths and legends for a new generation of children, and is being published in print and digital formats. The legends are told in a simple story-telling style by ex-BBC journalist Trish and are beautifully illustrated by Celtic artist, John Quigley.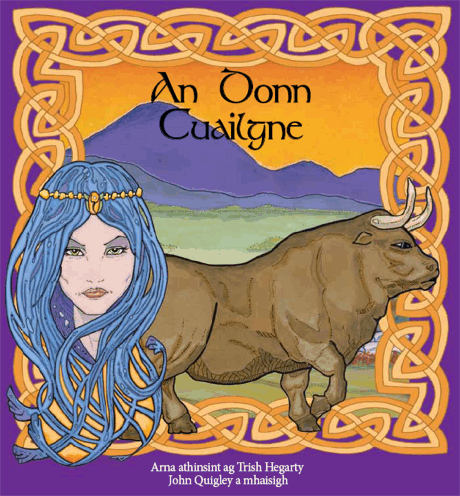 The Irish translation has been done by Daire Ní Laoi, a fluent speaker from Howth, Co Dublin who is also a naíscoil teacher and professional translator.
This first book tells the story of Queen Maeve of Connacht, who sets out to capture The Brown Bull of Cooley, to prove to her husband that she is the richest person in Ireland. Trish says it is ideal to be "read aloud to younger children and as early readers for 7-10 year olds". It is available in Irish and English in paperback and e-book formats. You can order direct from www.inispublications.com or on request from your local school book supplier. You can also buy at Amazon Kindle. For further information, please email info@inispublications.com or call Trish on 086 1740057 or 0044 7803 077831.