Rosato's wins top gong
26.10.12
MOVILLE favourite Rosato's has been crowned 'Traditional Pub of the Year' at the National Hospitality Awards 2012.
The cosy pub-restaurant's latest gong comes just two years after it was named 'The Sunday World' Pub Spy's 'Best Irish Pub 2010'.
The awards - in association with Hospitality Ireland magazine - were presented at a glittering ceremony in Dublin's Four Seasons Hotel, attended by some 150 industry professionals on Monday.
Rosato's proud owner, Eddie Harkin, travelled to the capital to pick up the prestigious award and hear glowing tributes about his popular Malin Road premises.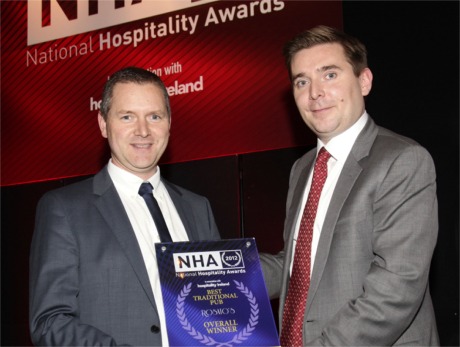 Rosato's owner, Eddie Harkin, left, picks up his award at The Four Seasons Hotel from Hospitality Ireland magazine publisher, Mark Kelly.
Hospitality Ireland editor Emily Hourican said: "Tourists come to Ireland for various reasons, but one of these is to spend time in our traditional pubs. They are a corner stone of the Irish experience. The good news is that we still have plenty of great traditional pubs.
"Our judges were impressed with the excellent use of space, standard of service and general atmosphere of Rosato's in Donegal."
The Moville pub was up against some of the best traditional pubs in Ireland and pipped Mooney's Bar and Grocery and the James Griffin to the overall accolade.
Eddie paid tribute to his "hard-working" staff and said they were all delighted with the award. "I'm over the moon, chuffed," he said.
Among the other winners on the night were Aniar in Galway for 'Best Restaurant'; The Library Bar at the Central Hotel, Dublin, for 'Best Hotel Bar' and Castle Leslie, Co Monaghan, for 'Best Boutique Hotel'.