End of road for An Post's green vans
01.10.12
A FLYING postman is coming to your door as An Post replaces its small familiar green vans with new white models.
The new mini-vans feature a graphic on the side of the vehicle varying from a flying postman, a surfing postman to a running postman.
Some 400 of the new vans are already on the road - including parts of Inishowen - with a total of 500 to be in use by the end of the year. The company recycles its small vans every three to four years and the entire fleet of green will eventually be phased out.
"The flying postman graphic has been around for years on our parcel vans but this is the first time we have used it on our smaller postal vans," said a spokesman.
"In future all the new small vans coming on stream will be white and the green vans will be phased out."
The new white mini-vans have so far been seen in the Muff area.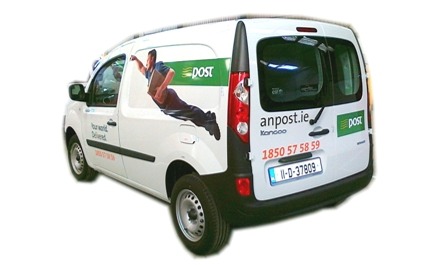 The new An Post vans with the 'flying postman' motif.
An Post has one of the largest fleets in the country with some 2,700 vehicles ranging from small vans to articulated lorries. The company uses more than 7.5 million litres of diesel every year with last year's fuel bill coming in at a whopping €10 million.
Meanwhile, An Post and Renault Ireland are trialling electrically-powered vans on a number of postal routes in Dublin, Cork and Galway.
The trial is designed to compare the fuel efficiency, maintenance costs and performance of the electric Renault Kangoo ZE mini van with its traditional diesel counterpart.