Its name is Rio...
05.12.11
INISHOWEN Motors enjoyed a successful open weekend to the strains of the popular Henry Girls and a live broadcast with Lee Gooch.
The event was held to promote two of the local firm's new models - the Nissan Juke and the brand new Kia Rio. Inishowen Motors operates in Malin and Letterkenny.
One long term customer, Eddie McGinley, is pictured after ordering his '2012 Irish Car of the Year' the Kia Rio.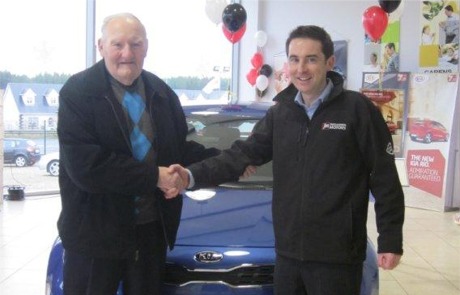 Eddie McGinley does the deal on his new Kia Rio with Seamus McLaughlin of Inishowen Motors.
"We wanted our customers to have an opportunity to test drive one of these great models and to let customers know that we are now agents for Nissan," said director Seamus McLaughlin.
"The event was attended by existing customers, several of whom have been customers for many years and are valued and important to us at Inishowen Motors," he added.