Storm brews between fishermen and EU
27.06.11
by Jessie Magee

INISHOWEN fishing boats will have to record and land every fish they catch even when they are not in a saleable condition, under proposed changes to the Common Fisheries Policy due to be published within weeks.
EU Fisheries Commissioner Maria Damanaki is expected to unveil details on July 13 of a comprehensive reform package which some Irish fishermen fear could set the struggling industry back even further.
A central focus of the reforms is to eliminate discards, in response to a high-profile campaign against the practice of fishermen dumping up to half their catch back into the sea. Discards would be replaced with new quota systems to be phased in by 2016, based on how many fish are landed in port rather than how many are caught. Fishing groups have warned that the value of their catch will plummet if they are not allowed the choice of which fish to keep, especially in areas off the Atlantic where many target species swim together.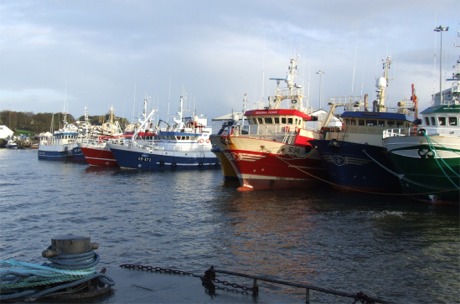 Fishing boats at Greencastle harbour.
North West MEP Pat 'the Cope' Gallagher, who is lobbying the Commissioner on behalf of Irish fishermen, says "serious incentives" for fishermen are required if a ban on discards is to be effective.
Mr Gallagher says he also has strong reservations about a proposal to introduce a new system of transferable fishing rights within member states for all vessels over 12 metres. Under this scheme, skippers would be guaranteed shares of national quotas for at least 15 years, which they could trade among themselves. Concerns have been raised that this method could result in smaller fleets and lower employment in the fishing sector. The reforms cannot be passed without the agreement of member states and MEPs.