McConalogue expects Clipper boost
05.07.11
DEPUTY Charlie McConalogue TD said he believes the Clipper Round the World Yacht Race "could generate millions" for the economy in the wider North West region including Inishowen.
"I have asked the Minister for Transport, Tourism and Sport and the Minister for Agriculture, Food and Marine to ensure that full co-operation at the highest level takes place between them and their counterparts in the Northern Ireland Assembly to ensure that this golden opportunity is not lost," he said.
"I realise that there is ongoing co-operation between Donegal County Council and Derry City Council. However, the impact of this race is far reaching in terms of global publicity and direct financial gain for the North West economy as a whole. We need to be properly prepared to harness this opportunity."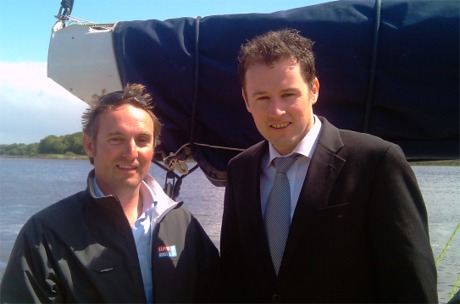 Charlie McConalogue TD pictured with the skipper of the Derry clipper, Mark Light with less than a month to go before the start of the round-the-world yacht race.
The Inishowen TD's comments come a month ahead of the start of the year-long race.
He added: "An economic impact assessment following the stopover of the Clipper Race 09-10 in Kinsale, Cork, estimated the gain to Kinsale and Cork city to be in the region of €5.6million. We have an opportunity to put ourselves centre stage of the 'homecoming leg' of the race as Derry will be one of the host cities along the east coast of America-Novia Scotia-Ireland-Europe-UK route.
"As the natural hinterland, we will reap obvious benefits but I am calling on our Government ,inisters to make sure we are well prepared in advance of the event to ensure we put our best foot forward for maximum gain," said Deputy McConalogue.