Event Ads are FREE for clubs and charities

Commercial ads cost €40 per two weeks.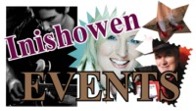 To place your event ad on Inishowen News just send us an email with...

- Your name
- Email
- Telephone number
- Event Details ( title, description, venue, date & time )

To: events@InishowenNews.com
If you have a poster to accompany your ad please send the image as an attachment to your email.
Events will be inserted once they have been checked by us. Inishowen News reserves the right, at its complete discretion, to refuse, amend or delete events without prior notice.